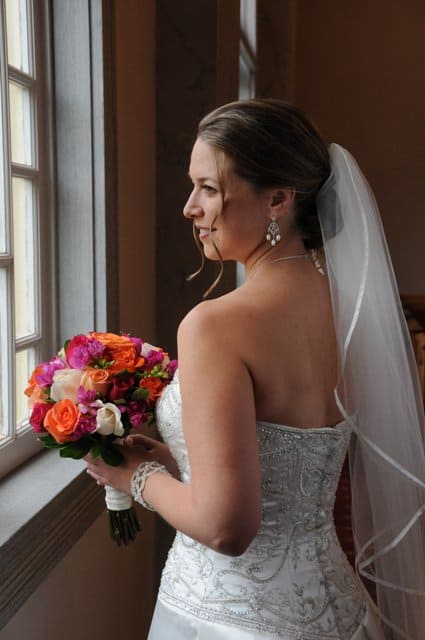 Michelle's Testimonial: Fit to be a Bride
My wedding was coming up and I knew I had to get myself in shape. I hadn't worked out in a while, so just getting to gym was an accomplishment. I started working with Fit-Nez and noticed results quickly and so did my friends! Three months later, I now weigh less than what I did in high school, which I still can't believe. Altogether, I've reduce my body fat, taken two inches off my chest, three inches off my waist and four inches off my hips. I feel great, have more energy and the best part – I still have a few months before the wedding. Fit-Nez is creative with work-outs, provides continuous support, and encouragement, and I know that without her, I wouldn't have been so successful.
Hillary's Testimonial: Bridal Beauty
Fit-Nez is by far the BEST trainer I have ever had. Fit-Nez is more than just a tough workout twice a week. Fit-Nez is a motivator, an inspiration, and a friend. I look forward to all my interactions with her. No matter what, I always feel that I have worked as hard as I can with her. It's not just because she makes me, but because I know that in the end there will be amazing results. I am living proof already that she can help you shed inches and pounds, in addition to getting you eating healthy. Her workouts are hard, but more importantly she provides amazing nutritional help and direction. Fit-Nez has provided me with a nutritional plan that I can not only follow, but that I enjoy.
The results have been amazing. In the 2 months that I have been working with her, I have gone from 29% body fat, to 18.8% body fat. That is incredible. And all along the way, I was receiving motivational emails, text messages, workout updates, and fun, healthy recipes to try. With a wedding coming up, and all that stress, it is really nice to know that someone has your health as a top priority. Fit-Nez has proven to me that she can get me where I want to be. If I just believe, I can get there with hard work and great nutrition. I have never really followed a diet or a plan before, but again she makes it easy for me. I am not going to say that I haven't cheated before, but when I do, I feel guilty. I know that the next day Fit-Nez is going to ask me what I ate yesterday, and I can't lie. I feel great, I look great, and I eat great, all because of Fit-Nez.